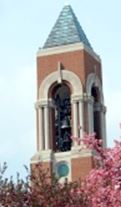 The photo is of the Shafer Bell Tower at Ball state University. At this moment, some radical atheists are hoping that any sound that might be coming out of it might be a toll on academic freedom that challenges evolutionary dogma. World Magazine reported June 18th that one of Ball State's untenured faculty members, Assistant Professor Dr.  Eric Hedin, "crossed a line when he encouraged classroom discussion that included multiple views of life's origins."
That got some of the atheists mad who only want to hear atheism taught in the universities. The Freedom From Religion Foundation jumped on a rumor that Dr. Hedin was "proselytizing."  Evidently that stems from their idea that if you challenge atheistic evolution by suggesting intelligent design, you are promoting a different religion other than their revered atheism. In other words' "How dare you challenge the "God of Atheism and Evolution."
This is a direct assault on academic freedom. I also consider it an assault on student's minds to think that they need to be protected from other viewpoints, even if that viewpoint opens the door to a religious possibility. A teacher's role is to help students think. From reading all the positive ratings the students have given this professor, he is apparently doing a great job.
In a letter to the editor at News-Sentinel.com, Dr. Arnold Burron wrote, "As a graduate of Ball State University, and as a professor of education at the University of Northern Colorado for almost three decades, I urge the Ball State community to vigorously support professor Hedin. It is time to stop stifling academic inquiry by acquiescing to the cacophonous complaining of special interest groups."
He also wrote, "Shutting down one's opponents by clamor, rather than by challenging them in intellectual discourse, is a threat not only to achieving quality education, but also to maintaining a free nation."
I can certainly identify with this discourse. While teaching at what is now called Colorado Mesa University, I was warned by my department chairman that my challenge to evolutionary dogma was a "touchy subject" and that I "had better drop it." Even my outside speaking on the topic got too much for them. Well, . . .  today, I am a full-time speaker on the subject of origins. As this was in the mid-eighties, you can see that this assault on academic freedom has been going on for quite some time.
Dr. Hedin, I encourage you to hang in there and keep up the good work! Students need teachers like you! I hope university instructors across this nation will get behind you in this and will also help you lead the charge against this type of censorship by special interest and outspoken atheist groups.
Dave Nutting, Director
Alpha Omega Institute
If you would like to see if an AOI seminar is right for you, or you would like to help the work of Alpha Omega Institute, please visit our website events page or our donate page. Keep up to date with what AOI is doing.  Thanks for your partnership.