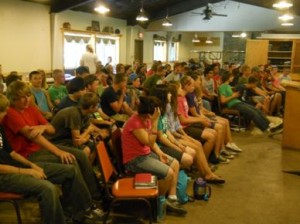 Recently, I had the privilege of teaching at Pioneer Bible Camp, which is located in the mountains near Eden, UT.  I had never been to this camp, so I did not know what to expect.  Upon arrival, I discovered it was a delightful camp nestled on the side of a mountain.  A beautiful environment.
There were about sixty upper high school campers in attendance, plus about twenty camp staff, which made it a nice sized group.  The teaching was focused on Genesis and its scientific content.  But the teaching was not just focused on the science, some was about events recorded in Genesis that still have an impact on our world and lives today.  In other words, to truly understand what is happening in the world around us you have to understand many historic events in Genesis.
Just in teaching the intro and the initial foundational information leading up to Genesis, the campers were already excited.  And only midway through the week, the campers were asking great questions about Genesis, and not Genesis only, but also many other portions in Scripture.  There is a hunger for deep and intensive Bible study and the related scientific topics.  I believe young people are eager to hear truth and are tired of the abundance of watered down Bible programs.  I am usually the last one to finish my meal, because of all the questions the campers are asking.  I also taught additional material in the evenings to anyone who had questions or just wanted to know more.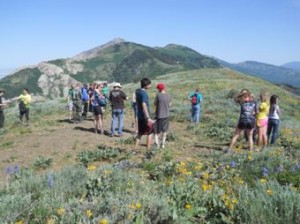 Not all of my time was spent in teaching. I also like to mingle with the campers and get involved in their games… if the time allows.  I was able to hike with the campers to the top of a nearby mountain, which gave me additional opportunities to talk with them and answer lingering questions.
I also had the chance to participate in some paint balls games, which I haven't played for about twenty years.  I discovered I make a better target than a marksman.  It was fun and a good time to get to know many of the campers.  I am always eager to see what new questions will be asked.
On one morning, the temperature dropped down to 36 degrees!  Most of the campers, counselors (and even the speaker) were freezing up.  But the testimonies of the campers helped to warm a person's heart.  One camper commented that he had never heard the creation/Genesis science message before.  He could not believe he could have fallen for the evolutionary lie. The Genesis science message fit perfectly with the observational evidence.  I am constantly intrigued to see what the LORD will do with these campers!
Check back soon for more reflections on the Pioneer Bible Camp as well as what happened at the airport on the way back.
Rich Stepanek
If you would like to see if an AOI seminar is right for you, or you would like to help the work of Alpha Omega Institute, please visit our website events page or our donate page. Keep up to date with what AOI is doing.  Thanks for your partnership.