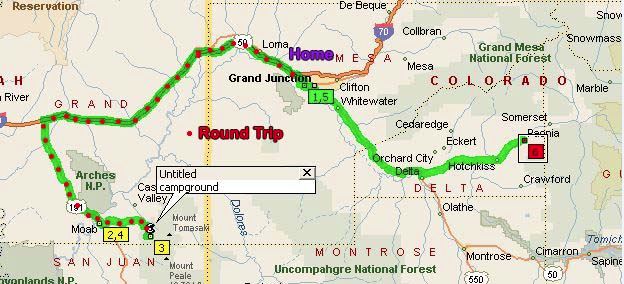 One might ask us "Why?"
WHY would you drive 2 hours and 113 miles through a desert in the heat of the afternoon – throw your bags in a motel room, grab a quick bite to eat – and continue on for another 21 miles (1 hour) up a rough, although paved, pot-hole filled, narrow, steep mountain road, dodging the grazing and meandering cattle all the way – and then carrying on 6 more miles on a wash-boarded, teeth rattling, gravel, dusty road?
WHY would you set your equipment up under a small open canopy, in the wind and rain, to only have time to teach a handful of youth for 1 brief hour before their teeth began to chatter because of the cold?
WHY would you then tear your equipment down and load it up in the minivan – then head back down the mountain in the dark (almost 2 hour trek this time), dodging pot-holes and headlight frozen cattle in the middle of the road – arrive back at your very noisy economy motel about 10:30 at night to spend a restless night on a strange uncomfortable bed?
WHY would you get up early the next morning, load up the minivan with your luggage, and have a very inadequate 'Continental Breakfast' – drive 2 hours back through the quickly heating up desert – arrive at home to unload all the equipment and reload it all into a travel trailer and pick-up truck?
WHY would you then grab a quick bite to eat, then jump in the truck and head out for another 2 hour drive (71 miles) pulling the trailer behind – upon arrival at a church, to get the trailer parked and all our equipment unloaded into the church in the sweltering heat of the afternoon – to then spend 3 hours setting up equipment (crafts, puppet stage, computers, sound equipment, etc.) and books in preparation for teaching Vacation Bible School that begins the next morning and continues throughout the next week?
WHY are you willing to spend your afternoons in a sweltering trailer that the air conditioning cannot keep up with because of inadequate electrical voltage – or put up with the sounds of noise and traffic at night as you try to sleep while parked on a city street?
An easy answer to the WHY questions – "WHY NOT?" God has instilled a passion in all of us at Alpha Omega Institute to share the truth of Creation and the joy of Salvation. So we are willing (oh, we do sometimes grumble) to put up with a lot of different, sometimes uncomfortable and stressful situations to be able to share those truths.
"…Take heed to the ministry which thou hast received in the Lord, that thou fulfil it."  Colossians 4:17
Lanny Johnson
If you would like to see if an AOI seminar is right for you, or you would like to help the work of Alpha Omega Institute, please visit our website events page or our donate page. Keep up to date with what AOI is doing.  Thanks for your partnership.