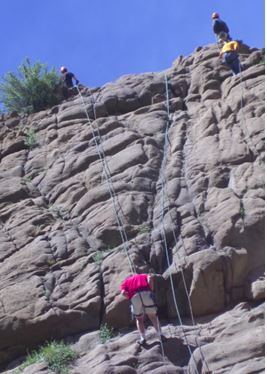 What is it like to climb to the top of a 130' cliff, get hooked into your belay rope, lean backwards and step off the edge for the first time? If you are anything like me, or most of our campers, you feel more than a bit of apprehension and a lot of adrenalin flowing! After all, it's not natural to step backwards off a cliff and "walk" down the face of a mountain, even if you are "on belay!"
Here at the Creation Action Boot Camp, our campers are having a wonderful opportunity to have their faith stretched in more ways than one. For many of them, rappelling for the first time is a mighty big test of faith. For others, it might be going out in a canoe, or climbing a 14,000' peak. For some, it is the challenge of sleeping in a cabin with 20 other people or being in a strange environment with people you don't know. For some, it might be having their ideas about evolution questioned, or grappling with evidences for creation and being challenged to put their lives totally in the hands of their Creator/Redeemer.
Just as rappelling requires a person to face their fears and deliberately choose to trust in the strength of the ropes and the faithfulness of the person belaying them, true Biblical faith requires believing the truth of God's Word, committing our life into the hands of our faithful Creator, and "stepping off the cliff." For many people this act of faith is just as scary as stepping off that 130'cliff.
The creation evidences, Bible studies, and testimonies that we share with our campers can help them gain confidence in the truth of God's Word and in His faithfulness. But it still takes a deliberate act of faith to forsake the teaching of the world and dependence upon self, and trust completely in the Word of God.
But praise the Lord! He is faithful! His Word can be trusted. His testimony is true and His character is reliable. We thank all our prayer and financial partners who make this ministry to campers and so many others possible. May God bless YOU in whatever next step of faith He is putting before you.
P.S. If you missed Creation Action Boot Camp this year, we still have room for one more family at our Creation Mountain Adventure, July 28-August 2, and space on our Green River Raft Adventure (Aug 24-30). Check our web or call today to sign up for one of these high-quality adventures which will challenge, encourage, and equip you in this walk of faith with our faithful God.
Mary Jo Nutting
If you would like to see if an AOI seminar is right for you, or you would like to help the work of Alpha Omega Institute, please visit our website events page or our donate page. Keep up to date with what AOI is doing.  Thanks for your partnership.