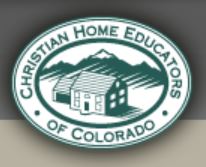 Sue and I had a wonderful time again this year in hosting a booth and teaching workshops at the CHEC home school convention in Denver.  It is truly a place where old friends meet, as well as a place to find new ones.  Year after year we have the privilege to fellowship with former Twin Peak and Camp Redcloud alumni, parents who are interested in building a solid foundation for their children in science and Scripture, and some parents who are just curious about our ministry.
We also had the opportunity to meet Terry Beh, the author of a new dinosaur book called T is for T-Rex.  While at the AOI booth, Terry sold and autographed his new book.  He is a very delightful man and very knowledgeable in the subject of dinosaurs and creation.
Of course, I brought along my mini-fossil lab to teach both children and adults about the flood and creation.  I get a charge, along with the participants, when I have them guess what my mystery fossil is.  The mystery fossil is coprolite, or in lay man's terms – fossilized manure.  Coprolites are good evidence of a catastrophic event, because manure decomposes very rapidly.
I also carry other fossils, like trilobites, which are excellent evidence for a designer because of the complexity of their eyes.  Also in the exhibit, I had both fossilized and unfossilized clams, snails, sand dollars, and others, that all demonstrate the stasis of a created kind.
We thank the Lord to be able to encourage many people at this event and to rest in the truth that teaching the Word of God is never done in vain.
Rich Stepanek
If you would like to see if an AOI seminar is right for you, or you would like to help the work of Alpha Omega Institute, please visit our website events page or our donate page. Keep up to date with what AOI is doing.  Thanks for your partnership.