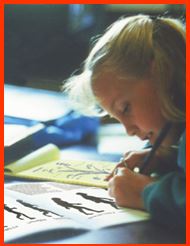 So many times, Mary Jo & I run into high school or university students who had attended church but now have rejected Christianity and the Bible because of evolutionary teaching. Some have become quite weakened in their faith and have begun to embrace evolution, even though they may not have dumped their faith altogether (yet). In the last couple of years, we have talked to several students who were on the verge of doing just that.
Not too long ago, we heard from someone who attended one of our family camps years ago, who claims it was the creation teaching at the camp that turned them around. Another individual said that the creation teaching they heard us give, almost 20 years ago, is what got them through college with their faith intact.
Just recently, a girl told me that evolution, as it was so pointedly presented in her high school this year, made so much sense to her. However, after hearing us show the problems with standard "proofs" of evolution, the lights came on for her. She said that she has now become a committed creationist for life! Praise God. We sure like to hear that.
If you think that evolution is a fact, make sure you come to one of our camps or seminars. If you can't do that, at least read the portion of our website that talks about what the evidence actually shows. You can find it at:  What's the Evidence?
Please pass that link on to others as it can make a lot of difference to many students.
Dave Nutting
If you would like to see if an AOI seminar is right for you, or you would like to help the work of Alpha Omega Institute, please visit our website events page or our donate page. Keep up to date with what AOI is doing.  Thanks for your partnership.