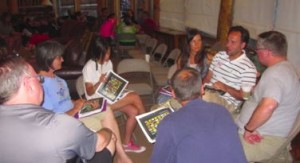 Mary Jo & I are at Camp Redcloud with a combination family camp and boot camp. What that means is we have a youth group of teens joining the families this week. I think that the combination is powerful as the youth group brings a good dynamic to the mix. The students also benefit from the maturity of the other participants, and in this case, seeing strong families in action!  These students seem excited to be hearing this material for the first time. Most of them attend public school and have never heard of any evidence in favor of creation, which speaks volumes against the idea of evolution.
We love having them with us, with the added benefit of bringing a lot of energy to the program. So far, they seem to not only enjoy the material but are interacting well with the other participants and their sponsors. We can't help but think that these youth are being impacted themselves. By the time they all leave on Friday, we will be encouraging them to pass the torch on to many others at their homes, churches, and schools.
We certainly encourage other families and youth workers to come to any one of our events with their group. It will be faith-saving for some and definitely faith-building for others.
If you want to join us for our June 23-28 Creation Action Boot Camp or to join us on the Creation Mountain Adventure for July 28-August 2, then check out our website and call our office to register at 970-523-9943.
Dave Nutting
If you would like to see if an AOI seminar is right for you, or you would like to help the work of Alpha Omega Institute, please visit our website events page or our donate page. Keep up to date with what AOI is doing.  Thanks for your partnership.