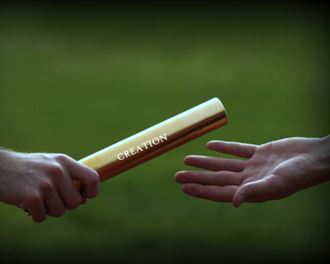 I had an opportunity to conduct another geology field trip to the Colorado National Monument near our home base in Grand Junction.  This particular tour was certainly a blessing to me, as the wife of this couple had a good background in geology and could easily pick up on the importance of what I was sharing. She could also ask those deep questions that I don't normally get to discuss with most people.
The real blessing, however, was her testimony. She had heard me speak along with several other creationists from the Institute for Creation Research over 20 years ago. At that time, she was a student and decided to go into a field that could have a major impact on the creation vs. evolution issue and especially with kids. She decided to become a public school science teacher with a strong emphasis in geology.
Of course, during her time of public school teaching, she couldn't openly teach about creation or the many problems with evolution, but the students would ask penetrating questions about some of the topics she chose to bring up. Some of the questions would ask how evolution can explain certain details. Being a teacher, she would be able to answer the question with, "Well the textbook says . . .," but does that really make sense? In it, she would have the students thinking critically, rather than just memorizing a bunch of stuff. That is a good education for students. In part, the students were teaching themselves not only the issues with evolution, but also how to see the same data through a creationist and Christian perspective.
Frequently, she would have students ask her just what she believed. At that point, she was free to share her doubts about evolution. So she certainly had a big impact with them.
To me, it was a blessing to think that a presentation I was part of, 20-25 years ago, has had such a major impact not only on her, but also on the huge number of students that she has been able to impact over those many years. Praise be to God! We hope that many others will follow suit and also pass the material on to others.
Dave Nutting
If you would like to see if an AOI seminar is right for you, or you would like to help the work of Alpha Omega Institute, please visit our website events page or our donate page. Keep up to date with what AOI is doing.  Thanks for your partnership.