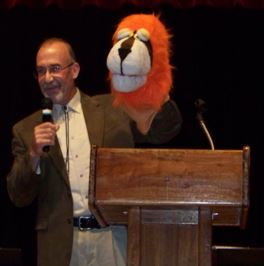 I had the honor of giving the Cornerstone Bible Institute commencement address for our daughters' (Claudia and Abby) graduation in Hot Springs, SD.  It was a lovely day, and graduation went very well.  The girls' old friend, Eugene the Lion, showed up to congratulate the graduates.  Of course, Abby and Claudia sank deep in their chairs when they discovered that Eugene was there.  They have fond memories of Eugene and traveling with the Johnsons as we taught creation.
But how did I become the commencement speaker?  Well, I had just joined the board of CBI  (it was my very first full board meeting) and they needed a speaker.  I did not realize until it was too late, the board usually has a new board member or someone who has a graduate speak. Well, I had both!  If I had to speak about bacteria, black holes, or junk DNA, then it would not have been a problem, but this was out of my comfort zone.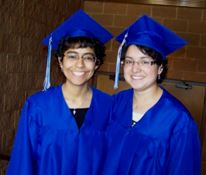 That is where God likes us to be, out of our comfort zone. Beyond our abilities so we cannot get the glory, He gets the glory… and that is exactly what happened.  He received the glory during the address.
But why would I join the board of a small Bible college?  Cornerstone Bible Institute is a Bible college dedicated to protecting and defending the Word of God.  Many Bible colleges are compromising with evolution and liberal theology, but Cornerstone is standing firm on the Rock of a literal Genesis and creation.  The Creator, Jesus Christ, is the Rock and the Truth.  Cornerstone believes that there is absolute truth and they teach it.  Because of their commitment to the truth, I wanted to be a part of equipping  students to be sound in the Word.
Rich Stepanek
If you would like to see if an AOI seminar is right for you, or you would like to help the work of Alpha Omega Institute, please visit our website events page or our donate page. Keep up to date with what AOI is doing.  Thanks for your partnership.