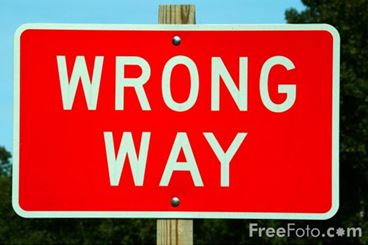 As Mary Jo & I were driving the other day to one of our speaking events, we were reminded of something we frequently tell students: Question your assumptions.
We were driving on Highway 69 and had been told that the highway made a jog in a little town. When it jogged to the left, we thought we were right on track. We didn't realize that the highway also had a quick jag to go along with the jog.  Having missed that part, we happily sailed down the wrong highway thoroughly enjoying the scenery – but unfortunately it was the wrong scenery.
Down the road quite a ways, and still thinking we were on 69, we saw signs pointing to Highway 165 and some other towns. I asked Mary Jo where else this highway 165 went to as it looked like a nice highway. When Mary Jo looked at the map, the assumption that we were on the right road, led to the following wrong conclusions. That highway number just wasn't on the map, and that section of the map didn't even show the towns the road signs listed. We had even concluded the map was very accurate. Since there were only graveled roads and no paved roads marked on the map for that section of the highway we thought we were on, we also were led to believe that the nicely paved road taking off to the right must have been very recently paved, or maybe just paved close to the intersection and the rest a gravel road.
We never questioned our assumption that the map was right and that we were on the wrong road. It wasn't until we saw the sign telling us how far it was to Pueblo, CO, that we even began to question our assumptions. Pueblo?? How could that be?? Highway 69 doesn't go to Pueblo. We then looked at the map and saw the missed jag that went with the jog way back there. At that point, we turned around and ended up taking that nice highway we had wondered about. It at least went mostly the direction we wanted to go, albeit, the missed jag cost an hour of driving time. However, it was wonderful scenery on that nicely paved road.
Needless to say, this illustrates the point to students we speak to. Question your assumptions. Don't just assume that your teachers and professors are unbiased when it comes to their anti-religious statements and "facts."  Don't assume that that they have looked into the evidence for creation when they speak against it. Perhaps they are biased or had just assumed themselves that their own professors or authors they consult had given an unbiased presentation.
The Bible tells us to "examine all things." That includes our assumptions. Don't get led down the wrong road. Hold fast to the true North—Jesus Christ our Lord.
Dave Nutting
If you would like to see if an AOI seminar is right for you, or you would like to help the work of Alpha Omega Institute, please visit our website events page or our donate page. Keep up to date with what AOI is doing.  Thanks for your partnership.