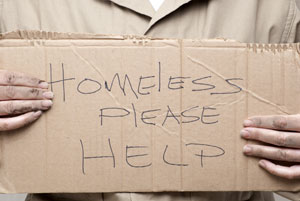 While I was on tour teaching creation in Eureka, CA, my host pastor asked me to teach to a particular audience I had never taught before.  I have taught in jails, private and public schools and colleges, homeschool groups, private homes, camps, churches, etc., but I had never taught to the homeless.
I was invited to teach at a rescue mission.  I really did not know what to expect.  Would they accept or even care about trying to understand the scientific information for creation?  Would they even be interested in this subject at all?  After all, they are without jobs, homes, and many without families.
To my surprise, the experience was far beyond what I had imagined!  They were excited, supportive, humorous, and some were very knowledgeable about the subject.  It was a wonderful time.  By teaching a firm foundation in which the Bible is true, the men were encourage to know that God is real and He loves them.
Rich Stepanek
If you would like to see if an AOI seminar is right for you, or you would like to help the work of Alpha Omega Institute, please visit our website events page or our donate page. Keep up to date with what AOI is doing.  Thanks for your partnership.