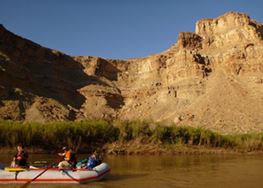 The dates have been set and permits obtained! Excitement and learning loom ahead! Mark your calendar for AOI's 60 mile raft trip down the Green River through Desolation and Gray canyons. We are teaming up with Journey Quest, a Christian rafting ministry.
This is a tremendous trip with a lot of river fun and excitement in both rafts and kayaks… whatever you prefer. See Flood geology and biology up close, as well as Indian cliff paintings and old west historical sites. Hike, raft, Kayak, relax, explore, and have a blast in or out of the water. Hear fascinating stories (some might be true), camp along the river, and enjoy Bible teaching and worship time.  There will be many fascinating "mini-lectures" and discussions.  Good meals are provided as well as tents. You will only need to bring personal items and sleeping bags.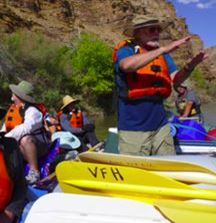 The stretch of river is not overly dangerous but has some great excitement with over 50 rapids. The minimum age is 5 years old.  The cost is only $695 per person. A love offering to AOI is always appreciated for extra expenses, but not required.
We will meet in Grand Junction, Colorado, at noon on Saturday, August 24, to organize our gear. As soon as our gear is packed, we will be transported to our first camp site for a launch on the river the next morning. We will be on the river until about noon on Friday, the 30th, and then be transported back to Grand Junction.
For MORE INFORMATION, many MORE PHOTOS, a VIDEO of last year's adventure, and REGISTRATION, visit: the Journey Quest website
Space is limited, so register soon! Hope you can come!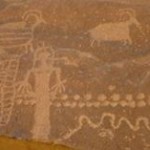 Dave & Mary Jo
If you would like to see if an AOI seminar is right for you, or you would like to help the work of Alpha Omega Institute, please visit our website events page or our donate page. Keep up to date with what AOI is doing.  Thanks for your partnership.