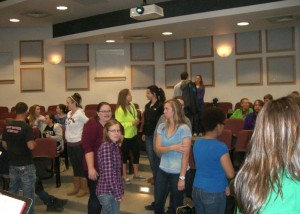 Sometimes I am reminded about how long we have been in the Creation ministry. A few weeks ago, I was teaching for Master Plan Ministries (MPM) at their weekly TNL (Tuesday Night Live) meeting on the campus of Colorado Mesa University. They begin the evening with about a half-hour of praise and worship, followed by announcements, and then a time of teaching.
After the praise and worship time, the worship leader approached me and inquired if I remembered his parents. He told me who they were, and I realized that I had known this young man since he was in diapers! He was a toddler when Marilyn and I had joined with Alpha Omega Institute in January of 1994.
As I looked around the crowd of 65 students, I recognized several other 'kids' (I consider everyone younger than me as a 'kid') that my wife and I had known for years. There was a girl whose parents have always been encouragers of our ministry. Another girl had attended a Vacation Bible School we presented when she lived in Denver … at that time she was in the first grade. We also had worked with her recently at a Bible camp where she had been a camp counselor. The young man playing the bongos with the band … we had taught him creation (along with his brother and sister) at the same Bible camp, and later worked with both he and his brother (they were also counseling campers). The director and his wife of MPM … we had also taught their children at camp and worked with several of them, also at Bible camps.
Another young man, that was not there that evening, we have also known since he was a toddler. Over the years we have worked together several times – he had a Bible study in high school that I shared at several times, and we went on several mission trips together. At this time, he is raising support to work full-time with MPM on the Auraria Campus in Denver, Colorado.
Several months ago we were teaching in a church in western Kansas, and had a young lady share with us that she had attended one of our Creation Vacation Bible Schools when she was about 8 years old. What made my wife and I feel very old at the time … she was holding the hand of her 8 year old daughter!
We realize that we are getting old. However, I have searched the Bible and have not found any examples of those in ministry retiring. So as we approach (very quickly) social security age, we are going to keep on keeping on as long as God continues to give us the energy and health to do so.
Lanny Johnson
If you would like to see if an AOI seminar is right for you, or you would like to help the work of Alpha Omega Institute, please visit our website events page or our donate page. Keep up to date with what AOI is doing.  Thanks for your partnership.