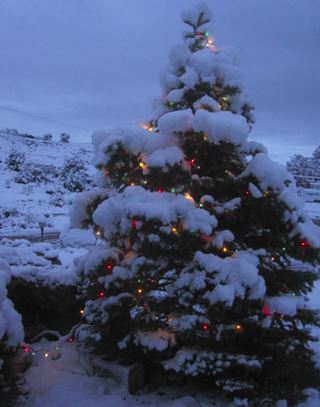 You have to like Colorado. It is frequently said that if you don't like the weather in Colorado, wait 5 minutes. It will change. Sometimes it really surprises you. I almost hate to admit it, but the Christmas photo out my front door (to the right) was not actually taken at Christmas. It was taken about two weeks ago. I hadn't yet taken down the Christmas lights, as we have had a pretty busy schedule. Or should I say, I am really early in getting prepared for this coming year's Christmas season.
The extra snowfall also hit the mountains hard, which is a good thing as it looks like we may not have as much of an issue with a drought like we had last year.
On the Monday after the snowstorm, the temperatures were around 84 degrees. I kind of like that better, as I'm not too fond of cold temperatures.  I was also particularly thankful for the quick change to warmth and snow–free weather, because I had to drive over the Rocky Mountains for a Creation project with the Navigators in the Colorado Springs area.  I certainly don't like that drive in a snow storm. But when you do a Creation ministry and are scheduled months in advance, you take the weather you get… and that includes road conditions.
Dave Nutting
If you would like to see if an AOI seminar is right for you, or you would like to help the work of Alpha Omega Institute, please visit our website events page or our donate page. Keep up to date with what AOI is doing.  Thanks for your partnership.