2Timothy 4:2 " Preach the word; be instant in season, out of season; reprove, rebuke, exhort with all longsuffering and doctrine."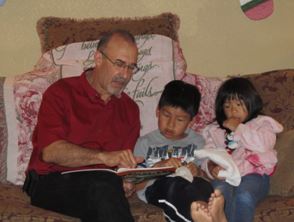 We list our speaking schedule on the web, so that people can be informed about when and where we will be presenting the creation/Genesis message.  But, this is only a small portion of the creation teaching that we actually do.  Not only do we teach during the seminars, but around the dinner table with friends, during the day and night when we have a few free moments, and even while waiting before teaching in a school classroom.
During these opportune times, the teaching is usually with a small group or just one on one.  Many people have questions, and the Bible and science have answers to their questions.  Between classes in a Christian school, I was asking some of the students various creation/evolution questions.  The school I was at does not teach evolution to be true, but many of the students had compromised their thinking with evolution anyways.
The deception of evolution is great, but as they saw the light and understood that bacteria always stay bacteria and Darwin's finches always stay finches, along with the science behind the 'Law of Biogenesis', they came to the realization that Darwinian evolution is just an illusion.
It is a joy to see the lights in their mind turn on, and the smile on their faces when they discover creation is really true and they are loved by a wonderful God!
Richard Stepanek
If you would like to see if an AOI seminar is right for you, or you would like to help the work of Alpha Omega Institute, please visit our website events page or our donate page. Keep up to date with what AOI is doing.  Thanks for your partnership.