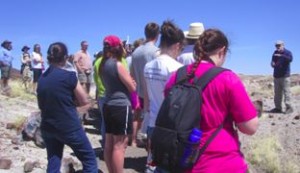 This year we added Petrified Forest National Park to the Jackson Hole Bible students' itinerary for the annual geology field trip. Petrified Forest is located in eastern Arizona. The petrified logs, which are brightly colored, give the park its fame. Visitors certainly enjoy not only seeing the rainbow of colors found in the logs but also the large size of the trees and the vastness of the deposit.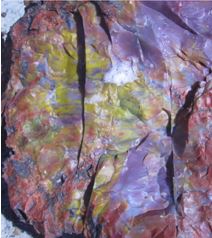 The colors are produced by the different elements present along with silica during the petrification process. Iron produces much of the red, brown and yellow colors, while carbon gives some of the black. Chromium, cobalt, and copper can each add blue and green hues. Manganese frequently gives pink, orange, black, and yellow tints.
The name Petrified Forest is a misnomer, as this area really is a petrified log jam. The trees are not only found in the 146 square miles which comprise the park, but are also abundant in a very broad region across Arizona. I have also found petrified trees, in the same geologic formation, extending into Utah and Colorado.
It would be so good if the 600,000 – 1 million people who visit there each year would be told how this vast formation, with all of its petrified logs, is a testimony to the Flood of Noah's day. However, about all you hear is the millions of years of geologic history that is so prevalent in all the parks.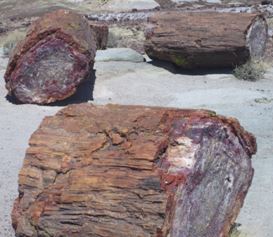 The closest they might come was found in the following statement:
"Visualize stormy floodwaters carrying Triassic trees here to the floodplains, where over time, the trees would petrify."
Yes, I can visualize that, but in way I can't… as the floodwaters they are referring to would be a drop in the bucket compared to the immense floodwaters during Noah's Flood. It is hard to imagine what it really was like during that time.
I have often thought I would like to see a video replay of the Flood when I get to Heaven, but am sure that it would be a heart wrenching experience to see the massive destruction and loss of lives, both of people and animals. Besides, I'm sure God will have much more pleasant things for me to see in Heaven than that.
Dave Nutting
If you would like to see if an AOI seminar is right for you, or you would like to help the work of Alpha Omega Institute, please visit our website events page or our donate page. Keep up to date with what AOI is doing.  Thanks for your partnership.