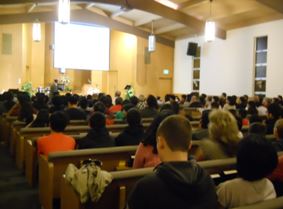 We are just in the second week of our California seminar tour.  We recently finished teaching at our second church, Fellowship Bible Church, of Belmont, CA.  Our time there was very encouraging.  They had four different teaching sessions from Thursday to Sunday.  The session on Friday was especially well attended with the auditorium filled and rows of chairs placed in the entrance area for the overflow crowd.  Sue also had a large group of kids on Friday night to minister to in the children's program.
We also enjoyed great Chinese food and fellowship as we dined with old and new friends.  What a blessing the Lord brings with the care and encouragement we receive from the Body of Christ!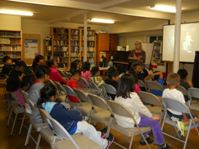 During our California seminar trip, we have seen the hand of God working in many ways.  It is always a joy to see how He works to orchestrate our schedule.  Going into the trip, we had about five days that we had been unable to fill.  But by God's grace, He brought three opportunities for Christian school teaching into those vacancies.  In addition to that, a church member graciously offered his vacant house for us to use for a couple days to rest and catch up on some work.  What an answer to prayer it has all been!
Rich Stepanek
If you would like to see if an AOI seminar is right for you, or you would like to help the work of Alpha Omega Institute, please visit our website events page or our donate page. Keep up to date with what AOI is doing.  Thanks for your partnership.