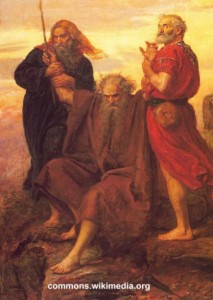 We have watched God be faithful to supply our physical and spiritual needs as we have served Him spreading the Creation message for the past 20 years. When Lanny was first called to go into this ministry, his father asked him how he was going to support his family.  Lanny's reply was, "I'm not … God is going to supply our needs." As we stepped out in faith, God was faithful over the years to provide for us. God's faithfulness was a huge witness to all our family (our girls included … oh yeah … and his wife!).
In chapter 17 of Exodus, Moses and the Israelite people also experienced God's sustaining help. They were attacked by Amalek, a nomadic tribe. The unprovoked attack was from a well trained and experienced army. Moses told Joshua to choose men from the Israelites – this rag-tag group of untrained soldiers obediently followed Joshua into battle.
Moses, Aaron, and Hur went to the top of a hill over-looking the battle with the rod of God.  When he held up his hands, Israel prevailed, but when his hands became too heavy, then Amalek prevailed.  Aaron and Hur came along side to help support the hands of Moses. Victory was theirs!
Moses was determined to remain obedient to God, but he found it physically impossible.  With support from friends, Moses was able to complete the job God had given him to do.
God uses faithful friends to provide the support that we need at Alpha Omega to take the Creation message to the world. Thank you faithful supporters for standing by us and helping God supply or needs!!!
Giving almost always falls off in the summer and leaves us wondering if we will get a paycheck in the fall. Please pray with us that our supporters will stick with us though the summer months and give us victory over financial and physical fatigue.
Marilyn Johnson
If you would like to see if an AOI seminar is right for you, or you would like to help the work of Alpha Omega Institute, please visit our website events page or our donate page. Keep up to date with what AOI is doing.  Thanks for your partnership.