Once again, I'm with another group of energetic and fun-loving Bible college students from Jackson, Wyoming, on a geology field trip for the better part of 2 weeks (24 students and 15 staff).  Some of these high energy students (usually the guys) like to climb on anything they find, and showoff how close they can get to the edge.
As you can see from the picture below, that could be a deadly mistake. Sandstone tends to be undercut. If one would walk out to the edge without knowing this, the already cracked slab and the unfortunate person on it would likely fall over 1000 feet straight down to their death below. So, one of the very first things I warn those students before they have the opportunity to try their wings is, "WATCH OUT and don't get close to the edge!"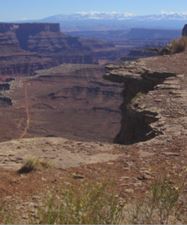 Today, a woman who happened to overhear my talks on the rim told me she wouldn't have enough nerve to take college students to places like this. Since she was a college professor, she knows the nature of the breed.
We not only warn and point out hazards, but also do a lot of praying and careful watching. This group is doing great and is taking the warning seriously. For that, we as the staff are very thankful. So please pray with us for safety on this trip, and also for the educational and spiritual results as these students see first-hand evidence for the Flood of Noah's day.
Dave Nutting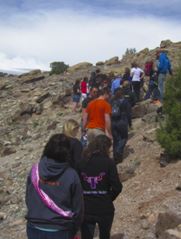 If you would like to see if an AOI seminar is right for you, or you would like to help the work of Alpha Omega Institute, please visit our website events page or our donate page. Keep up to date with what AOI is doing.  Thanks for your partnership.