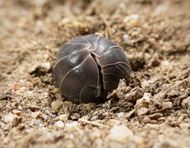 Like me, I'm sure many of you enjoyed watching pill bugs or "roly-polies" when you were kids. This common little bug rolls up into a tiny, hard ball when threatened. The pictures from Wikipedia Commons will remind you. (My search for how to spell the pill bug's nickname brought quite a revelation in itself. Various sites had: "roly poly" or "rolly polly," rolie-polie!) But what do roly-polies have to do with theology? Just what can we learn from these little bugs?
The other night, Mary Jo and I were at a dinner where we met Janis. She shared with us her "Roly-Poly Theology" story. You will understand why I am passing this on to you as you read on.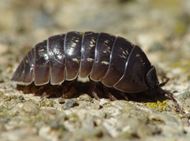 Janis told us she was sitting next to a swimming pool and noticed a roly-poly crawling around. The little bug walked right over to the edge of the pool and fell in. Oh, no! The poor bug was doomed to drown with absolutely nothing it could do on its own to get out of its predicament. But then, Janis reached into the water and scooped that bug out of the grips of death and lifted it to safety on dry ground, where it quickly unrolled and walked away.
As Janis thought about it, God gave Janis her "Roly-Poly Theology." This is a picture of exactly what God had done for her (and for all of us). God reached down while we were hopelessly drowning in our sin, and with no means of saving ourselves. He lifted us up out of certain death (through no action on our part) and gave us life.
You can likely add many other aspects to this theology, such as Christ placing our feet on solid ground, etc.  So, have fun with it as you think of various ways to apply Janis' "Roly-Poly Theology" to your own life. I am certain that I will remember this theology lesson every time I see a roly-poly and would hope that you do, too.
Thankfully lifted up in Jesus' arms.
[Note: Pill bugs are not really insects, but crustaceans and actually have gill-like structures. They can survive for a short time in water, but eventually will die. Likewise, we might be able to "survive" in sin for a time, but will eventually die if we reject the gift of life in Jesus.]
Dave Nutting
"For the wages of sin [going astray, missing the mark] is death; but the gift of God is eternal through Jesus Christ our Lord." Romans 6:23
If you would like to see if an AOI seminar is right for you, or you would like to help the work of Alpha Omega Institute, please visit our website events page or our donate page. Keep up to date with what AOI is doing.  Thanks for your partnership.