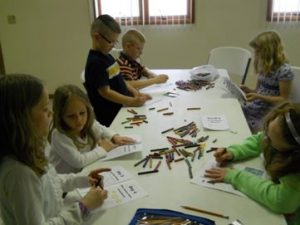 Well, that Tuesday (see my last blog "Genesis Series on the Road…") Sue and I, with the help of our son Joel, taught six hours at Faith Baptist Church in Pawnee City, NE.  The seminars went very well.  I taught one hour on dinosaurs, science, and the Bible, and the next five hours we spent on the Genesis Series. We covered Genesis chapters one and two.  Sue, with her changes to the children's ministry, was a big hit.  The people at Pawnee were truly "hungry" for the information and requested a continuation of the Genesis Series at a future date.
Two boys, who were in either 5th or 6th grade, came up to me after the last evening's program wondering if there was another two hour program tomorrow.  I was sorry to say that there wasn't.   It is very encouraging to see young people getting so enthralled about the Word of God!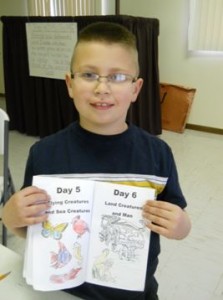 From March 8th through the 10th,Sue, Joel, and I were at the Fairview Baptist Church near Towanda, KS.  The pastor scheduled eleven hours of teaching, which is quite unique for us since we normally teach for only four to six hours at a church.  The goal of the seminar was to cover Genesis chapters one through three by teaching two hours on Friday night and another five hours on Saturday.  The plan for Sunday was to teach approximately four hours of my creation science series.
I was not able to finish Genesis chapter three Saturday afternoon, and the interest was so great, that many attendees requested two more hours on Sunday afternoon to allow us to finish the chapter!   We were amazed!  Thirteen hours of teaching in one night and two days.  Sue ended up teaching eleven hours for the children.  People of this country are hungry for the foundational teachings of Scripture and science!
Rich Stepanek
If you would like to see if an AOI seminar is right for you, or you would like to help the work of Alpha Omega Institute, please visit our website events page or our donate page. Keep up to date with what AOI is doing.  Thanks for your partnership.