I recently read a blog article entitled, "Dawkins becomes a Creationist."
The title certainly jerked my head into reading position as I had great hopes that the prolific, atheism-promoting writer, Richard Dawkins, saw the true light. However, the blog article was written by Dr. Karen Dawkins who, as an evolutionist, evolved into a creationist during her college years as a result of seeing evidence for creation and the problems with evolution. She later received her Doctorate from veterinary school, practiced small animal medicine, had a small animal emergency practice, and worked as a pathologist in a toxicology research laboratory.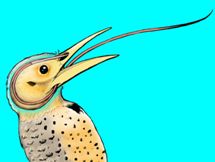 One creature she mentioned as having had an impact on her thinking is the amazing woodpecker. It also opened up many other unanswered issues of evolution.
She is not the only one who had to give up on evolution after contemplating the tremendous design of the woodpecker. Lanny Johnson, who heads up the children's department with his wife, Marilyn, also had to come to grips with the implications of the design of the woodpecker, after hearing Mary Jo talk about it at one of our seminars many years ago. It was the door opening for him to re-evaluate his 20 years of Atheism.
I would hope that the remarkable design of the woodpecker, that is so obvious, would continue to peck many more holes in evolutionary philosophy and turn many minds and hearts to our Creator God .
Dave Nutting
If you would like to see if an AOI seminar is right for you, or you would like to help the work of Alpha Omega Institute, please visit our website events page or our donate page. Keep up to date with what AOI is doing.  Thanks for your partnership.