I am sad to report that one of the key leaders in the Creation ministry passed away last week on March 6.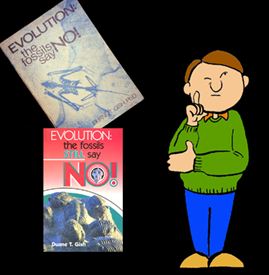 Dr. Duane Gish will certainly be remembered by Mary Jo & I. His book, Evolution, The Fossils Say No, changed our lives. Mary Jo & I believed in evolution years ago, when we picked up his book on the fossil record. That caused us to really begin thinking for ourselves, reevaluate our perspective, do our own research, and then led us not only to reject our beliefs in evolution, but eventually to embark on telling others through our ministry with Alpha Omega Institute. Dr. Gish always liked to have us share that when we were together at a ministry event. He'd say, "Tell them about my book."
Dr. Gish was also noted as being Creation's "Bulldog" as he championed the cause through hundreds of debates with evolutionists. He caught many challengers off guard with his encyclopedic scientific knowledge of evolution and what was wrong with the latest evolutionary arguments. Many evolutionists began to warn others that they should not debate Dr. Duane Gish as they would certainly not win.
Mary Jo & I were not only blessed by his extreme intellectual abilities, but also with his friendship over the years, his love of the Lord Jesus, as well as his contagious humor.
I am sure that we are not alone. Many people have also been impacted by his original book as well as the later editions, through his debates, his seminars, and through his life. The abundant fruit of his ministry will be quite noticeable in Heaven.
We certainly will miss this great man of God who changed our lives!
Dave Nutting
If you would like to see if an AOI seminar is right for you, or you would like to help the work of Alpha Omega Institute, please visit our website events page or our donate page. Keep up to date with what AOI is doing.  Thanks for your partnership.