A Pastor friend recently told me this story (my paraphrase):
There once was a man named Waylon Pendergrass (a fictitious name not meant to incriminate any particular individual) who went out partying one evening and became rip-roaring drunk. In his drunken stupor, he decided to increase his income by committing burglary.
Waylon drove around the town neighborhoods for quite some time until he finally came upon a house that was completely dark. Seeing no vehicle in the driveway of said house, he came to the conclusion that nobody was at home, therefore a perfect place for his larcenous intent.
Waylon staggered around to the back of the house and smashed in a low lying window. After struggling through the broken opening, Waylon proceeded to stumble through the dark house collecting valuables which he stuffed into a bag. Once the bag was full, he then reeled back through the house and exited through the window by which he had entered.
Upon reaching his car, Waylon noticed that his burglary gloves were lying on the front seat. In a brief moment of sobriety, he realized that he had left fingerprint evidence throughout the house, which would surely point to his guilt. Already having a criminal record and not wanting to return to the "joint", Waylon decided the best course of action would be to destroy the evidence, where upon he set the house on fire.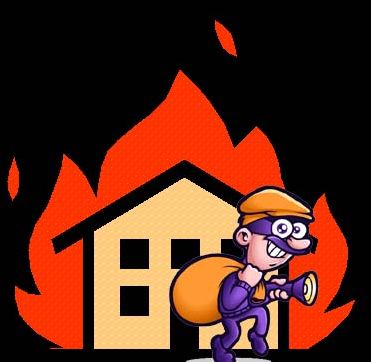 As Waylon drove away from the house, he had the thought that if he drove around the town in a random manner for awhile, he might further confuse the authorities. After wandering around the town for a short time, he became very drowsy and felt it was now safe to go to his home.
As he approached home, he was aghast to see his house surrounded by fire engines and police cars … his own house was on fire. Waylon realized that he had burglarized and torched his own home!
An alert police detective spotted Waylon, and upon approaching the vehicle saw the bag of "loot" in the back seat. Knowing Waylon's background, the detective began to pull the stolen items out of the bag and laid them upon the hood of the car. Amazed at what he saw lying before him, Waylon stated, "Wow, I didn't know I owned such good stuff!"
Moral of the story – how many times as Christians do we not know the wonderful possession we have in Jesus Christ. "In whom we have redemption through his blood, the forgiveness of sins, according to the riches of his grace;" Eph 1:7
Lanny Johnson
If you would like to see if an AOI seminar is right for you, or you would like to help the work of Alpha Omega Institute, please visit our website events page or our donate page. Keep up to date with what AOI is doing.  Thanks for your partnership.