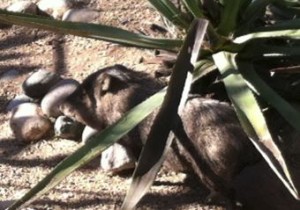 While Mary Jo & I were speaking in Arizona recently, we were happy to have had some special surprises. First was while we were having lunch just north of Phoenix with some good friends from Grand Junction, who happened to cross our paths (our first surprise).
The second surprise was when members of a peccary family (javelina) sauntered through the outside courtyard where we were eating. They are known to be unpredictably aggressive but we were glad that these were not (that day). However, our friends quickly made sure their dog was contained in their truck.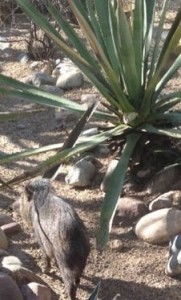 The third surprise was while we visited another friend who is in a rehab hospital in Sun City. A big coyote ran right through the middle of the rehab yard! I took a quick look around to see if the Road Runner was ahead of this Wiley Coyote.
An additional set of good friends, who are from Jackson Wyoming, surprised us when we were setting up for a program at the Arizona Christian University. They were staying in Phoenix and had heard we were going to be doing a series of lectures in the Phoenix area and wanted to surprise us. They did and it was great seeing them!
Another big surprise was the snow and hail storms that hit Arizona while we were in Prescott, Phoenix, and even Tucson. Hey!!! This is Arizona. We even brought short sleeve shirts to beat the heat but were surprised that we never got to put them on since it was so cold. Instead it was long sleeve shirts, fleece vests and coats! At least the roads were good! However, we were also warmed by the great group in Tucson (many more than they usually get). We were also warmed by the response of the elementary and middle school children in Prescott.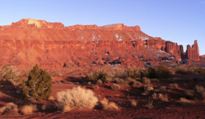 Part of the joy of being on the road as much as we are with creation seminars is not only the response to the message, but also the surprises of God's wonderful creation, whether they be the marvelous scenery,  His created animals, the good friends we encounter or make (also created by Him), or even unusual weather.
We praise God for all of that!
Dave Nutting
If you would like to see if an AOI seminar is right for you, or you would like to help the work of Alpha Omega Institute, please visit our website events page or our donate page. Keep up to date with what AOI is doing.  Thanks for your partnership.