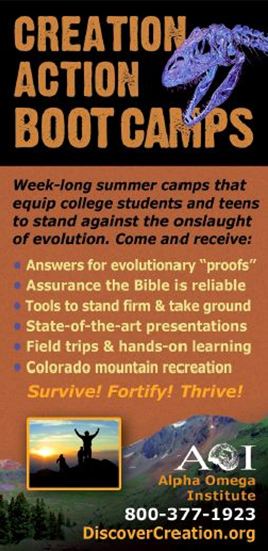 Mary Jo & I had just finished a seminar, when a boy came up to her and said, "Well, there goes 9 years of education down the drain."
Since he was only about 9 or 10 years old, we felt there was a bit of overstatement there. Also, I'm sure not all of his public education was wasted. However, it really goes to show you one thing. Evolution is taught at such an early age, that even a young boy can see that it has been a big part of his education.
That is unfortunately the case. Evolution is being taught early in elementary grades and even in some kindergarten classes. This would be obvious if you ever asked a first grader about the mighty dinosaurs. For most kids, you will hear them recite many evolutionary concepts. Even a 6 year old relative couldn't handle a non-evolutionary view of dinosaurs. He blurted out, "But my book said it [evolution] was true, and my teacher said so too." How do you argue with that? He had dinosaur books galore (all evolutionary), dinosaur toys, dinosaur models, and even dinosaur PJ's.  I was amused but saddened that 2 scientists (Mary Jo and I) were having such a hard time getting him to see anything other than evolution.
It is no wonder that many students are so closed to Creation when they get to high school and college and encounter an even more systematic education in evolution. This is also true of many Christian students.
That is exactly why we offer Creation Action Boot Camps for teens and college students. We see the importance in these Boot Camps to "fireproof" students. Also for many of them, like the boy mentioned earlier, we see our role as ministering first aid to shell-shocked Christian students, bandaging up their wounds, and setting them back on a right course. Make sure you check out our website to find out more about the Boot Camps. Hopefully there will many more students who will reevaluate what they have been taught, and perhaps flush some of the evolutionary dogma down the drain.
Dave Nutting
If you would like to see if an AOI seminar is right for you, or you would like to help the work of Alpha Omega Institute, please visit our website events page or our donate page. Keep up to date with what AOI is doing.  Thanks for your partnership.