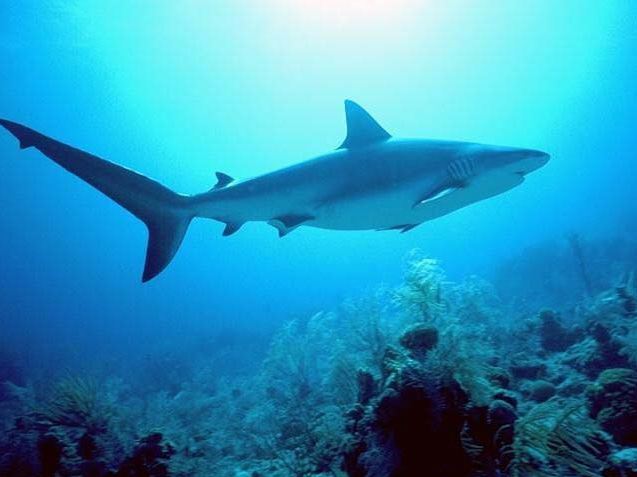 In 2002, the U.S. Office of Naval Research hired Dr. Anthony Brennan, a materials science and engineering professor at the University of Florida, to find new antifouling methods to reduce use of toxic antifouling paints and trim costs connected with dry dock and drag.1   Dr. Brennan felt that using an engineered topography could be a key to new antifouling technologies.
While visiting the U.S. naval base at Pearl Harbor in Oahu, Dr. Brennan and several co-workers observed an algae-coated nuclear submarine entering port. To Dr. Brennan the submarine looked like a whale lumbering into the harbor, causing him to ponder which slow moving marine animals don't foul. The answer seemed to be the shark.
Dr. Brennan took an actual impression of shark skin (its dermal denticles) and, after examining the impression with scanning electron microscopy, he discovered that shark skin denticles are arranged in a distinct diamond pattern with tiny riblets. The ribs' width-to-height ratios corresponded to his mathematical model for roughness – one that Dr. Brennan felt would discourage microorganisms from settling.
Using this information, Dr. Brennan and Sharklet Technologies developed Sharklet, a patented, microscopic pattern. The first test of Sharklet reduced green algae colonization by 85 percent compared to smooth surfaces.
Sharklet has also proven to be a surface upon which bacteria do not like to grow … a mighty defense against bacteria. Research suggests that Sharklet keeps biofilms from forming because the pattern requires too much energy for bacteria to colonize, resulting in bacteria finding another place to grow or simply dying.
Sharklet Technologies, using Sharklet, have had success in inhibiting the growth of Staph a., Pseudomonas aeruginosa, VRE, E. coli, MRSA and other bacterial species that cause illness and even death.
Sharklet Technologies have developed and manufactured adhesive-backed skins (using The Sharklet pattern) that may be adhered to high-touch areas to cut back the transfer of bacteria among people. They have also developed the Sharklet Urinary Catheter to help reduce hospital-acquired infections.
Once again, whether they recognize it or not, many scientists and engineers are looking to God's designs in nature for solutions to modern day problems.
1 Information for this blog derived from http://www.sharklet.com/technology/
Lanny Johnson
If you would like to see if an AOI seminar is right for you, or you would like to help the work of Alpha Omega Institute, please visit our website events page or our donate page. Keep up to date with what AOI is doing.  Thanks for your partnership.