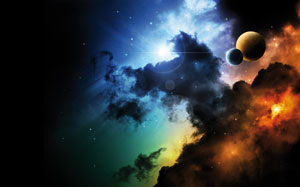 The search for extra-terrestrial life has preoccupied astronomers for years. Its discovery is the hope of evolutionists. I emphasize the word "hope" because it's, well, uh, … purely hope.
There is reason why this hope is so needed. To the ardent evolutionists, finding life elsewhere in the universe will be proof positive that life evolved here on Earth and therefore, there is no God who created us in the first place. I would say there is a "disconnect" in logic there, but that's their hope.
The first step in finding life out there is to find a suitable planet which also has a suitable star that is not going to fry it. Are there suitable environments? Perhaps, but read the following one-liners which express pure hope in last week's Associated Press article by Marcia Dunn entitled Closest Earth-like planet "stroll across the park.' (I've emphasized in bold their hope.)
"Earth-like worlds may be closer and more plentiful than anyone imagined."
". . . nearest Earth-like planet may be just 13 light-years away."
"That planet hasn't been found yet, but should be there . . . "
". . . their planets could be much older that Earth and their potential life forms much more evolved."
"Future spacecraft should be able to locate these planets . . . "
Keep in mind, they haven't even found a suitable planet yet, but their hope is certainly that some future generation of Earthlings will find it and life as well.
I can only hope, that the "wishful hope" of these evolutionists doesn't keep them from experiencing the Blessed Hope of eternal life that is available to us right now through the Lord Jesus Christ.  Yes, that is faith.  However, the Bible says, "Now faith is the substance of things hoped for, the evidence of things not seen." (Heb 11:1)
Note the words "substance" and "evidence" – two things the article didn't mention.  However, our faith is in the substance and reality of Jesus Christ who actually lived and who gave tangible evidence (through actual physical miracles) that He is the son of God.  Since this is true, we can trust that the promises he gave us which includes that Blessed Hope of eternal life. As John 3:16 says, "For God so loved the world that He gave His only begotten Son, that whoever believes in Him should not perish but have everlasting life."  Our hope is in the risen Savior.
Now that life is something worth putting your hope in!
Dave Nutting
If you would like to see if an AOI seminar is right for you, or you would like to help the work of Alpha Omega Institute, please visit our website events page or our donate page. Keep up to date with what AOI is doing.  Thanks for your partnership.