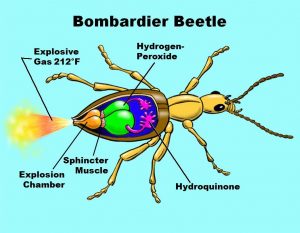 One of my favorite insects to talk about, to show God's design in nature, is the bombardier beetle. Even though the bombardier beetle is only ½ to ¾ of an inch long (1.27 to 1.9 cm), it packs a powerful defense mechanism to protect itself from predators.
When in danger, the bombardier beetle mixes different chemicals (hydrogen peroxide and hydroquinone) from different glands and then injects them into an explosion chamber containing mostly water. Within the explosion chamber another chemical is added (catalase), which causes a rapid chemical reaction to an explosive force. The resulting water/steam (2120 F or 1000 C) is then fired out through 2 'cannons' (nozzles) at 65 ft. (20 meters) per second. The bombardier beetle opens and closes the inlet valve to its combustion chamber with great precision to prevent blowing itself up. The beetle can also control the pressure and direction of the explosion with pinpoint accuracy at whatever is trying to eat it. What once appeared to be one explosion has now been shown to be multiple discharges of around 500 pulses per second!
Andy McIntosh, professor of Thermodynamics and Combustion Theory at the University of Leeds, has been studying the bombardier's combustion mechanism, hoping to engineer more efficient reigniters (small devices that shoot charged chemicals into the engine if it stops at high altitude) in aircraft engines. Professor McIntosh stated, "It's become evident that the dimensions of the chamber and the nozzle coming out of the back are crucial." However just copying the dimensions of the bombardier's explosion chamber does not make a more efficient reigniter. He went on to say, "In reality the combustion involved is complicated by the catalytic processes associated with the muscle lining of the chamber."
Professor McIntosh, with many years of engineering research experience, readily admits that all the complex machinery that God has designed in nature is far more complicated than man's. "They can even repair and reproduce themselves," he says. "So how much more do they declare '… his eternal power and divine nature.' (Romans 1:20)."
*Much of information derived for blog is from, Bombardier Idea, David Catchpoole, Creation27 (3):50-51
Lanny Johnson
If you would like to see if an AOI seminar is right for you, or you would like to help the work of Alpha Omega Institute, please visit our website events page or our donate page. Keep up to date with what AOI is doing.  Thanks for your partnership.