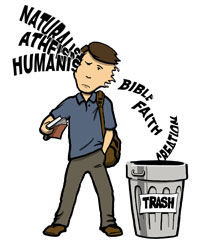 God says in Hosea 4:6: "My people are destroyed for lack of knowledge…" It's not just any old knowledge. Students are given a lot of "knowledge" alright, but it is devoid of the broader framework of godly, creation-based, Biblical truth. This knowledge of time-tested Godly principles and practices is lacking. In the name of academic freedom, many teachers and professors use their position to "indoctrinate" students away from God and His ways. They pump the students' minds and hearts with atheism, humanism, and evolutionary naturalism. This squeezes Biblical Truth, faith, morals, and Godly practices out.
Many excellent teachers do their best to fight this trend. They are "salt and light" in the schools – they need your support and prayers. However, as Mary Jo and I speak at the universities and interact with the students, I have to say, things are not getting bad, they are frighteningly bad right now!
The idea that "My people perish for lack of knowledge" was the impetus for much of our country's original schools. Education equipped children to learn to read God's Word, respond to Him, and walk in His ways. Providing students with a sound, Biblical worldview was believed to lead to more positively contributing members of society.
Martin Luther, who was an advocate for public education, warned, "I am very much afraid that schools will prove to be the great gates of hell until they diligently labor in explaining the Holy Scripture…engraving them in the hearts of the youth. I advise no one to place his child where the Scriptures do not reign paramount. Every institution in which men are not increasingly occupied with the Word of God must become corrupt."
Unfortunately, I believe Luther's prediction has come true in this country – especially within the last 50-75 years. What was meant for good by previous generations of Americans has become a real battle-field. Biblical Creation, values, and Godly practice are often openly scoffed at in the classroom.  "Separation of Church and State" has been reinterpreted from its original meaning of protecting the church and is now being used as a bludgeon to keep anything which smacks of Christianity out.
In 2008, Des Griffin, wrote an article entitled, SCHOOLS: THE GATES OF HELL? In it, he traced the development of where we are today in our educational system which has ousted our Creator. I highly recommend reading this important article.
When politicians advocate "education, education," quite frankly, it scares me. YES, education is vital, but unless it honors our Creator God, it leads to disaster.
Edmund Burke said, "The only thing necessary for the triumph of evil is for good men to do nothing."So what should we do? Here are some ideas:
Start at home! Live your faith! Train your children in God's Word. Pray with, and for them.
Attend a church where God's Word is diligently taught.
Educate your child where "Scripture reigns paramount."
Interact with teachers/school boards/congress.
Write editorials.
Send your children to our Creation Action Boot Camps to help "fireproof" your own family; encourage the youth group at your church to come; provide scholarships for those in need.
Copy this link to this article and email it to your friends and family.
PRAY, PRAY, PRAY and then do as God leads you.
By Dave Nutting
(Article was also included in the January/February 2013 issue of Think & Believe newsletter.)
Please call our office or email us at aoi@discovercreation.org for additional resources on these subjects.