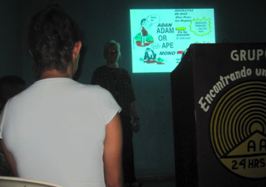 Two of the locations where Mary Jo & I had opportunity to speak while in Mexico last month were at drug and alcohol rehabilitation centers. Both of these facilities were "lock up" facilities, meaning that the people in there were not allowed to leave. These centers were last chance facilities in lieu of actually being put in prison.
In other words, we had a captive audience for the creation and Gospel message. Of course, while we were there, we were also locked in close quarters with them. As some of them looked like pretty rough dudes, we were very happy that the crowd was quite attentive and responded quite well to what we were saying. There was also quite a mixed group from two 10-12 year old boys, several young ladies, and men up to at least 50 years old.
The message we gave was definitely a creation verses evolution message (What's the Evidence?). It was coupled with the fact that they are not the products of accidents. Instead they are uniquely created in the image of God. Some of these men and women have been told that, or at least have thought, they are worthless. However, they responded well to knowing that they are important to God since they were created by Him. Questions after the presentation continued for quite some time afterwards. One of the men, who was actually originally from California, told me that the presentation was so very important. He said that what I had presented "blew my mind." The last time I heard that exact phrase used by a participant was many years ago. It was from a "former" atheist who had heard Mary Jo & I speak 7 years prior. The former atheist, who had become a deacon in his church, asked if we knew what we were doing. He then said, "You guys are running around the country blowing people's minds. (PTL! And Lord, allow us to keep doing that!)
We certainly hope and pray that these men and women who were at these rehabilitation centers, find this material, and a relationship with the Lord Jesus Christ to be a real spiritual "mind-blowing experience" and that they can be set free from their addictions which physically "blow their minds."
Dave Nutting
If you would like to see if an AOI seminar is right for you, or you would like to help the work of Alpha Omega Institute, please visit our website events page or our donate page. Keep up to date with what AOI is doing.  Thanks for your partnership.