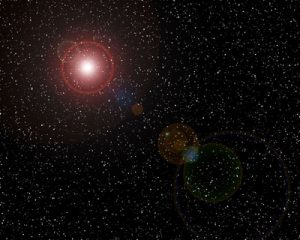 With the Christmas season here,  one mystery in the account of the birth of Christ is the star of Bethlehem.  This question is asked quite frequently when I teach on astronomy,  "So what did the wise men see?"  What kind of object was it?  Some say it was a special star similar to our sun, which was made by God; other ideas are planets, comets, or some other heavenly body.  As we study the motions of the stars, planets, etc., they rise on the eastern horizon and set in the west due to the earth's rotation.  Well let's see what the Bible says about this star and its movements.
As I study the star of Bethlehem, I start with using information that I have gleaned from Scripture.  The star appears on the night of Christ's birth, then disappears for two years and then reappears as the wise men leave Jerusalem on their way to Bethlehem.   Bethlehem is south of Jerusalem, so the star moved south and then stopped and stood over a house, nobody else seems to have seen the star; so what did they see?
Well I believe there is more information we can conclude about this star.  The star had to be bright enough to be seen at night, but not too bright to change the night into day.  If the wise men traveled to Bethlehem during the day, the star had to be light enough to be seen by daylight.  The star had to be small and close enough to the earth to be noticeably standing over just one house.  The star had to be cool so it did not burn up the house. Objects in our solar system are the closest heavenly bodies to the earth, but they do not meet any of those criteria!  So what was it?  To learn more about the star you can visit our website and read an article on my perspective.
Rich Stepanek
If you would like to see if an AOI seminar is right for you, or you would like to help the work of Alpha Omega Institute, please visit our website events page or our donate page. Keep up to date with what AOI is doing.  Thanks for your partnership.