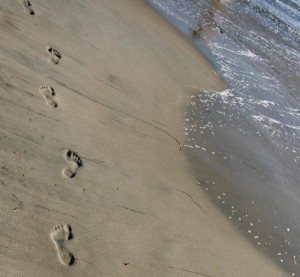 Walking the beach while on vacation, I saw a heart-warming site – a father standing with his son looking out at the waves and ships on the horizon. The thing that struck my heart was the way the son was standing. He purposefully looked at his dad and then assumed exactly the same pose, with hands behind his back, left hand resting in the right, gazing out at the ocean. (I would have loved to take a picture, but I didn't want to disturb the moment for this father and son.)
Watching this boy of about 9 years – seeing the way he was watching and imitating his dad – caused me to reflect on the importance of the example we set for our kids and grandkids. They are watching us! Do we really want those following us to be "just like us," or are there some areas we would cringe to see them copy? How important it is that we live consistent, God-honoring lives before them.
But then, I got to thinking – how can we become people worthy of following – we who are weak, fallen, and often struggling in various ways ourselves? Only by doing what the boy on the beach was doing – by looking intently at our Father – by seeing Him in the life of His Son, Jesus, our perfect example – and by deliberately, by the power of the Holy Spirit, imitating Him. Only then will we be worthy examples of humility, faith and endurance for our kids and others to follow. As Paul says in I Corinthians 11:1, "Be imitators of me, just as I also am of Christ." (NASB)
" . . . let us also lay aside every encumbrance and the sin which so easily entangles us, and let us run with endurance the race that is set before us, fixing our eyes on Jesus, the author and perfecter of faith . . ." (Hebrews 12:1-2, NASB, emphasis added)
Mary Jo Nutting
If you would like to see if an AOI seminar is right for you, or you would like to help the work of Alpha Omega Institute, please visit our website events page or our donate page. Keep up to date with what AOI is doing.  Thanks for your partnership.