My mother, wife and I have just gotten back from a wonderful 2 week vacation to Florida. While there, my mother treated my wife and I to a day trip to the theme park Epcot, part of Walt Disney World, near Orlando, Florida.
We began the day by visiting several attractions in what is called 'Future World'.  As we traveled through a ride/exhibit called Spaceship Earth, I was saddened, but not really surprised that we were presented with our "evolutionary" beginnings. It is very hard to go anywhere in the secular world without hints, suggestions, or declarations of the evolutionary worldview. Therefore, when it came to the next attraction, Universe of Energy – "a ride with Ellen DeGeneres as she goes back to the dinosaur era ", I decided to pass … after all, I have seen almost all of the stuff Disney has put out about dinosaurs, and it sure does not fit with what I believe.
After several more ride/exhibits through 'Future World', we traveled on to 'World Showcase', where the cultures of many different countries are portrayed. We were able to see several well done presentations, learning a little more about each culture; however, I found the main focus at each area seemed to be to get people to spend lots of money on trinkets, food, and drink.  But it is very easy not to spend money if you don't have any, and the good news … the drinking fountains and toilets were free.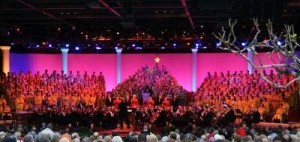 The real highlight of Epcot had to be the evening "Candlelight Processional" at an outdoor amphitheater. There a full orchestra (complete with strings, winds and drum), accompanied with a splendidly robed choir of 300 wonderful voices, gave an hour long musical rendition of the favorite Christmas carols. Between each song, Andy Garcia, a well known Cuban/American Hollywood actor, read from the gospel of Luke about the birth of Jesus. Near the end of the presentation, Mr. Garcia shared the gospel message (a very watered down version, but still the gospel message).
The grand finale was Handel's Messiah (also known as the Hallelujah Chorus). This great song of praise had the crowd of at least a 1000+ standing to their feet. I know that it is tradition to stand for this song, but no one is forced to sing along … yet the vast majority of the spectators were singing along with the choir, loud and strong!
So, was the seed of salvation planted on any fertile hearts that evening? That is a question only God can answer, but I do know that even with a watered down message, seeds were planted. And for that I give praise!
Lanny Johnson
If you would like to see if an AOI seminar is right for you, or you would like to help the work of Alpha Omega Institute, please visit our website events page or our donate page. Keep up to date with what AOI is doing.  Thanks for your partnership.