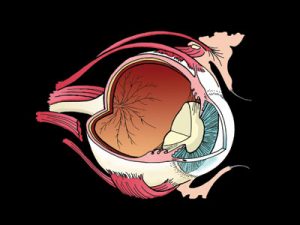 In an attempt to construct a better lens, scientists have turned to the complex systems in nature.  By studying the human eye and the way it is designed, they believe they have designed a lens better than the intraocular lenses manufactured today.  The goal is to produce a more natural and superior lens to be used in damaged or diseased human eye lenses, consumer vision products, and surveillance equipment.
With all the studying, technology, and intelligence of man, nature still produces a superior eye compared to what man can create today.  But the superior human eye is not really designed, according to some evolutionists, it is only an illusion!  What I find amazing is something that they say has no intelligence can develop a super complex system better then what man can make with all of his intelligence, research, resources, and computers to boot.  This doesn't say much for mankind.
Is there a more logical explanation?  A Designer superior to mankind with greater intelligence, power, technology, etc., and we are just pirating His technology.  I believe this superior Designer should receive royalties or at least get the glory!
Source Material: Artificial Lens Mimics Natural Human Eye
Richard Stepanek
If you would like to see if an AOI seminar is right for you, or you would like to help the work of Alpha Omega Institute, please visit our website events page or our donate page. Keep up to date with what AOI is doing.  Thanks for your partnership.