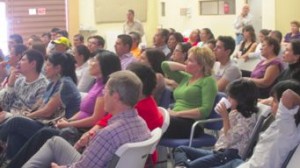 One thing I really appreciate when spending time in foreign cultures is the intense interest they have in our subject matter.  Even the children are intent …not to mention the parents. They are hungry for the information. This picture was taken in a Leon, Mexico, church at about the time of their normal break or siesta. I would venture to guess that if I took a similar picture in most churches in the States that we would catch plenty of people dozing!
Actually, I have heard it stated that if you were to line up — end-to-end — everyone who fell asleep in the pew in a church service on any given Sunday morning. . . they would be a whole lot more comfortable. 🙂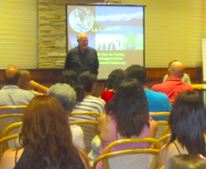 Sometimes the lighting we have when giving our presentations is very good, as it was in this conference room in Leon, Mexico (picture to the right).  Other times, such as in another church in Leon, there were major difficulties in lighting (notice the sky lights in the ceiling we had to contend with. There was also bright sunlight coming in from the other end of the building). With only black and white pictures and images which they use for the song service, the visuals come out to a minimal, but barely workable, level. However, since we use so many pictures with high color (vivid) images, the slides actually show up horribly in very brightly lit rooms.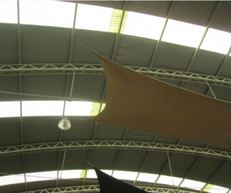 To overcome, we brought everyone in the church a little closer together and used our own projector (brighter), while using a screen on a slightly darker sidewall area. By projecting at closer range without the zoom feature, it worked reasonably well to get our points across. I knew what the images should look like, but I doubt most people really knew. They may have thought that our images could stand to be improved. (If only they could have seen my laptop screen!) Regardless of the difficulties, the people of this church actually stayed intently tuned for 2.5 hours of presentation and Q&A time after already attending their 1.5 hour worship service, so it couldn't have been too bad.
It wasn't until nearly the end of the program that I figured out why it was so HOT in that room. With the projector closer to me than normal, I was getting a hot blast of air from the projector fan!  I have been in the hot seat before, but this was a little different.
But even with the lighting issues, it has been a most rewarding time of teaching in Mexico.
Dave Nutting
If you would like to see if an AOI seminar is right for you, or you would like to help the work of Alpha Omega Institute, please visit our website events page or our donate page. Keep up to date with what AOI is doing.  Thanks for your partnership.