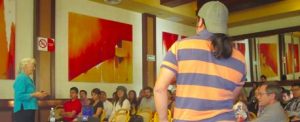 Mary Jo & I are "on vacation," but, as you can see, we are in the midst of speaking on Creation vs. Evolution at several locations in Mexico. (What better thing to do on vacation? And yes, we will get some good R&R time!) On the right is Mary Jo giving evidence for creation and the problems with evolution through our Spanish translator to a group of 75 people who have congregated to hear about this issue on a Saturday afternoon. I wonder how many in the States would give up a prime shopping day on a Saturday just prior to Christmas to hear the truth. These people are hungry to hear the other side of the issue.
Actually, evolution is being taught in most places around the world. AOI speaking staff has now had opportunity to speak in about 30 countries around the world and has found that evolution is just as much an issue in these countries as in the States. We also find that there is good interest in Creation in virtually all the places we have gone.
We are thankful to be able to bring the message of Creation and the difficulties with evolution to people anywhere we are asked to go.  This is a big world, and our limited staff can only go to a small part of it. We need many more people to take this message far and wide! On this trip, we have given seminars/presentations to 3 different groups and still have more to do including a 3 day seminar at a large church. Already this week, 4 individuals told us they desire to be trained to help spread the message. We have been formulating how best to expand AOI's training program and to do this in light of limited finances —  both AOI's and those who wish to have the training. Pray with us for wisdom to find the best way to move forward.
Dave Nutting
If you would like to see if an AOI seminar is right for you, or you would like to help the work of Alpha Omega Institute, please visit our website events page or our donate page. Keep up to date with what AOI is doing.  Thanks for your partnership.