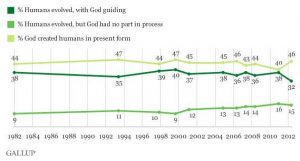 Because I believe in God as the Creator, I must be in a very small minority. At least that might be a conclusion one arrives at if you were to believe everything the textbooks, the media, the Hollywood movies and television portray – that mindless evolution has made everything!
However, a recent 2012 Gallup Poll (a division of Gallup that regularly conducts public opinion polls in more than 140 countries – see wikipedia for more information on Gallup Inc.) revealed that a majority of the populace believes that God created people in their present form.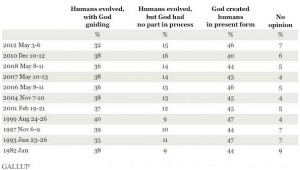 Those who believe in God as the Creator are larger in number than those who believe in atheistic evolution or theistic evolution (evolution directed by God). See their site for more information on the poll.
It is encouraging knowing that the battle has not been lost, and those who are on the battleground of the Creation/Evolution issue are making a difference.
Lanny Johnson
If you would like to see if an AOI seminar is right for you, or you would like to help the work of Alpha Omega Institute, please visit our website events page or our donate page. Keep up to date with what AOI is doing.  Thanks for your partnership.