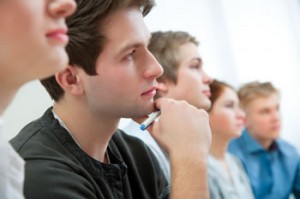 Presenting creation programs on a university campus brings out a variety of students with different backgrounds, different perspectives, and different motivations for coming. It's quite a challenge to meet these varying needs in one presentation. That's why we are glad for the Q&A time and one-on-one time before and after the presentations. Here are some "portraits" from just 2 nights of recent university presentations:
Twenty-year old history major – grew up in a "fundamental evangelical" church – now claiming to be an evolutionist – looking for something "new"—almost seems he is crying, "Convince me."
Middle age man – going back to school to become a middle-school science teacher – church member – taking a class on Evolution vs. Creation – coming to learn more about creation model
Biology major – also in the Evolution vs. Creation class – identifies himself as an evolutionist — polite and attentive  — has questions about science and the Bible
Graduate student – says as he comes in, "I don't know why I'm here. Maybe morbid curiosity." – Lots of objections to creation – leaves halfway through presentation
Biology student – also in the Evolution vs. Creation class — says he believes in God – asks some penetrating questions – later says he likes playing the "devil's advocate"
Young man – identified by his smile – lights came on for him when he came to our presentations last year – now a happy and devoted follower of Jesus
We plant, others water, but the Lord brings the harvest. Please join us in praying for these students, that God would bring forth abundant fruit from the seeds that have been planted. Pray too, for those who diligently work and witness and build relationships on campus throughout the school year.
Dave Nutting
If you would like to see if an AOI seminar is right for you, or you would like to help the work of Alpha Omega Institute, please visit our website events page or our donate page. Keep up to date with what AOI is doing.  Thanks for your partnership.