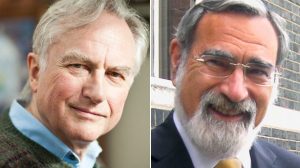 As I was watching the debate between Richard Dawkins and Britain's Chief Rabbi Jonathan Sacks, Richard Dawkins began talking about the God of the Bible.  As I listened to his description of God, it was clear that he was not talking about the God the Bible proclaims.  How could he have such a distorted concept of who God is?
I believe it starts with the presupposition of whether you believe in creation or evolution.  If you believe in evolution, millions or billions of years, etc. your view of Genesis changes.  My conclusion that Richard Dawkins does not believe in creation or Genesis to be literally true is easy to deduce (you don't have to listen to the debate very long), and this will affect your view of who God is.
To begin understanding who God is, you need to start in the beginning of creation with Genesis 1:1.  I believe Genesis 1:1 begins the foundational teaching of God's attributes, so in my mind it is crucial to understand Genesis in the way God meant it to be read and understood.   Genesis is written as true history, to be taken literally.
Not only have I discovered that people who do not attend church have a misconception of who God is, but I have also discovered the same problem within the church.  Sue (my wife) and I not only travel teaching creation, but we also help hurting people.  Much of the emotional and spiritual hurt comes from the misunderstanding of God's character.  As Sue and I reveal the true God proclaimed in Genesis, most people gain a sense of peace and relief.  I am a firm believer of building a firm foundation of Scripture – and this foundation starts in Genesis.
Richard Stepanek
If you would like to see if an AOI seminar is right for you, or you would like to help the work of Alpha Omega Institute, please visit our website events page or our donate page. Keep up to date with what AOI is doing.  Thanks for your partnership.