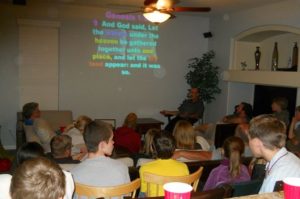 There is an evolutionary change in my teaching style over the last two years.  I still present my normal creation science topics for seminars at churches, home school groups, Christian schools, public schools, colleges, etc., but there has been a shift in my teaching for home Bible studies.   The disadvantage of teaching at home Bible studies is it limits the number of people who can attend.  The advantage is the more intimate teaching style.   With fewer people and of course a more homier atmosphere, people seem to feel more comfortable about asking questions.
I normally teach my Genesis series in these settings, because of the questions it provokes.  I have discovered as Christians understand the creation science message they have a deeper hunger to understand Genesis.  There seems to be some confusion about the first few chapters of Genesis, and this is what stirs up the questions.
Just last weekend, I presented a Genesis series at a home Bible study in Denver, CO.  Over thirty people attended, with many being children.  On Saturday night we started at 4 p.m. and ended about 11 p.m.   That evening we covered parts of Genesis chapter one and three.  Then on Sunday afternoon, the teachings started around 4 pm, and ended around 10 pm.  We had a number of breaks during the session.  The breaks consisted mostly of questions and some eating.  In the four or five hours of teaching, we were only able to cover Genesis chapter one.  What surprised me was the involvement and participation of the children.
This study is very in-depth, but the children understood the concepts very well.  I believe it is because they haven't had the years of exposure that adults have had to humanistic teachings.  Many times I did not have to answer the questions, because the children answered them instead.  Jesus said in Matthew 18:3, "Verily I say unto you, Except ye be converted, and become as little children, ye shall not enter into the kingdom of heaven."  I have discovered this statement to be so true.  Children have no problem understanding the literal reading of Genesis and its Biblical concepts.  Out of the mouth of babes!
Rich Stepanek
If you would like to see if an AOI seminar is right for you, or you would like to help the work of Alpha Omega Institute, please visit our website events page or our donate page. Keep up to date with what AOI is doing.  Thanks for your partnership.