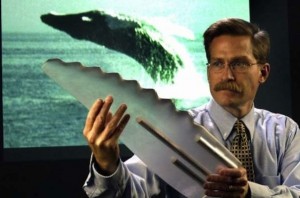 In our travels around the country, we encounter many wind farms, churning away, generating electrical energy. In an effort to make wind turbines even more aerodynamically efficient, biology professor Dr. Frank Fish and Stephen Dewar (founders of Canadian-based company WhalePower) turned to biomimetrics [copying or being inspired by design solutions from nature].
Dr. Fish noticed that the bumpy, irregular surface on tail fins of the humpback whale and some dolphins increased their aerodynamic efficiency as they travel through water. These bumps, called tubercles, inspired scientists and engineers at WhalePower to come up with what has been named "tubercle design".
One of the problems with wind turbines is their efficiency at different wind speeds. At high wind speeds, most turbines function well. However, turbine blades stall as the wind speeds drop, thereby losing their lift. To compensate for this, most conventional wind turbine blades are arranged well below the optimal angle for generating power.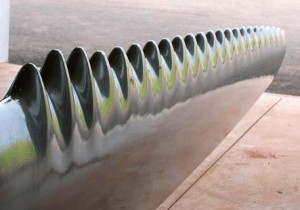 According to Fish, by adding tubercles to the edge of a turbine blade, "You can modulate the pitch of your windmill so that it operates at higher angles of attack without fear of stalling."1 This in effect increases lift, decreases drag and reduces the risk of a stall. The end result is a 20% increase in generated power compared to conventional turbine blades.
So far, WhalePower is selling technology for  highly efficient industrial ceiling fans, with wind turbine blades still in the near future.
Whether they acknowledge it or not, many scientists and engineers are looking to God's designs in nature for solutions to modern day problems.
1 http://spectrum.ieee.org/green-tech/wind/biology-inspires-better-wind-power
Lanny Johnson
If you would like to see if an AOI seminar is right for you, or you would like to help the work of Alpha Omega Institute, please visit our website events page or our donate page. Keep up to date with what AOI is doing.  Thanks for your partnership.