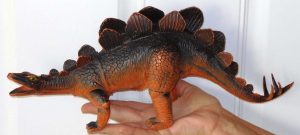 I have found that there are a lot of misconceptions about dinosaurs. I normally always start off each dinosaur talk showing 2 dinosaurs models (see pictures) – a Stegosaurus and a Tyrannosaurus Rex. After identifying the dinosaurs, and holding up the Stegosaurus, I will ask, "How many of you believe that at one time there was a Stegosaurus this exact size walking upon the earth? If you believe that, raise your hand." Usually only a very few hands will be raised. Then I ask, "Then how many of you believe that there wasn't a Stegosaurus this exact size walking upon the earth?"  Normally, a majority of those present will raise their hands.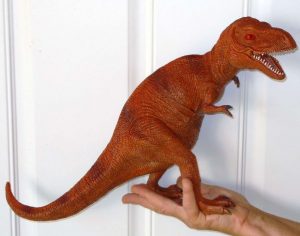 I will then hold up the T-Rex and repeat the questions.  Again, the majority will vote that there never was a T-Rex that exact size walking upon the earth. I then hold up a replica (exact copy of the real thing) of an Oviraptor egg, explaining that most scientists today believe that dinosaurs were hatched from eggs.
Then I share that a fossilized egg of a Stegosaurus has been found. The scientist knew it was a Stegosaurus because using  x-ray they were able to see the baby Stegosaurus still inside of the egg … and that egg was just a little smaller than my model Stegosaurus. So, yes at one time there was a very small Stegosaurus running around on the earth – when it hatched out of the egg!
Even the very large Brachiosaurus, who grew to be about 80 feet long, came from relatively small eggs (two eggs stuck together in lower right corner of the enclosed picture).
To date, they have never found an egg of T-Rex that they know for sure was a T-Rex. However, by comparing the size of eggs of other dinosaurs that have been found and identified, and then comparing it to the adult dinosaur's size, and then comparing it to the size of an adult T-Rex, many scientists now believe that when T-Rex hatched out of an egg it was probably about the size of my T-Rex model.
Wow! So if you were able to catch a T-Rex when it hatched out, you could put a collar on it and walk it like a dog … or carry it around on your shoulder like a parrot. But you couldn't do that for too long, because T-Rex did grow to be a very large dinosaur!
Lanny Johnson
If you would like to see if an AOI seminar is right for you, or you would like to help the work of Alpha Omega Institute, please visit our website events page or our donate page. Keep up to date with what AOI is doing.  Thanks for your partnership.