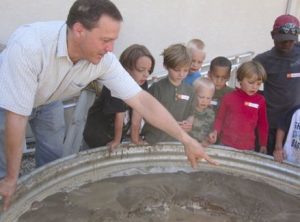 This summer, I had the opportunity to speak for a Vacation Bible School and was blessed to be joined on the teaching team by Mark Sonmor. Mark had been on the AOI staff for 7 years before starting his own art company. Mark has an intense interest in Creation and currently does the art layout for our publication Think & Believe.
Besides his own lessons he taught, Mark brought several hands-on demonstrations to the VBS which helped reinforce the lessons both he and I were teaching. One hands-on activity was the Flood Tank he constructed out of a metal watering tank.  He created a raised platform in it and covered that with a plastic liner. The liner had a hole in it with a removable plug. Plenty of dirt was placed in it and then it was submerged with water. He then circulated the water and pulled the plug – allowing all the water to drain out. As the water rushed out, what was left was soft mud which had been greatly eroded. The erosional pattern looked just like the canyons we could see nearby (which could actually be seen from the tank).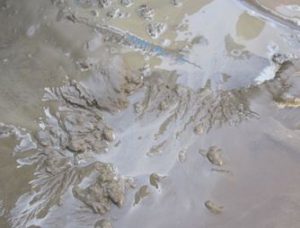 In that one demonstration, many other landform features that we see on the earth were also represented, in addition to the canyons. His demonstration showed that it certainly does not take millions of years to make canyons. Time is not the key ingredient… the conditions are.
The Flood Tank gave all the participants an idea of how the worldwide Flood in Noah's day, and its aftermaths, could have shaped the world in one brief moment in Earth history. This helped them see the truth of the Bible.
Dave Nutting
If you would like to see if an AOI seminar is right for you, or you would like to help the work of Alpha Omega Institute, please visit our website events page or our donate page. Keep up to date with what AOI is doing.  Thanks for your partnership.