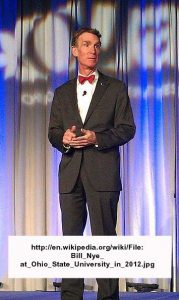 When Marilyn and I first joined AOI, there was a very popular Disney/PBS children's science show on television (1993 to 1998) called "Bill Nye the Science Guy." Nye was very entertaining and made learning science fun for kids. However, every chance he got, he would interject his worldview of evolution. For years, I would warn children to be careful watching Nye because of what he taught on evolution. After his show was dropped in 1998, we didn't see him much on public television for children, and so I quit mentioning him in my talks.
However, he is back in the spotlight with an anti-creation clip on You Tube labeled "Bill Nye: Creationism Is Not Appropriate For Children."
I could spend a lot of time and space refuting Nye's claims. However, Creation Ministries International has put out a video that refutes it so well, that I recommend having you view their comeback on You Tube – CMI: Evolutionism is not appropriate for anyone.
Lanny Johnson
Make sure to check out the After Eden cartoon, "Competent Advice?," from Answers in Genesis on the subject.
If you would like to see if an AOI seminar is right for you, or you would like to help the work of Alpha Omega Institute, please visit our website events page or our donate page. Keep up to date with what AOI is doing.  Thanks for your partnership.