An article in the August 13 Science Daily reports on research in progress by Purdue University physicists which could lead to ways of protecting satellite and Earth communication/energy systems and even give warnings to astronauts on space missions . The danger is in the neutrino emissions from solar flares which have knocked out equipment in the past and exposed astronauts to extreme radiation. The researchers are working on technology which could warn of solar activity so we could prevent damage from serious solar flares.
NOTE: The key element of this research has spinoffs to the reliability of radioactive decay dating methods. It appears that solar flares are preceded by particle emission which changes the decay rate of radioactive elements! Since that can be measured, a sudden increase of the decay rate will warn of radiation danger from a flare.
Why is this significant to radioactive decay dating? One of the huge assumptions (and supposedly "proven" facts of science) for the radioactive dating methods is a constant decay rate. If this is not true, then "absolute" dating methods aren't as reliable as presented. This present research actually documents not only changes in the decay rate preceding a solar flare, but also seasonal fluctuations of the decay rate! Although the measured variations are not huge, this opens the door for research on other ways decay rates can be altered. Therefore, this is very significant research!
I will be looking into this more and try to report on it in the next issue of Think & Believe. So stay tuned!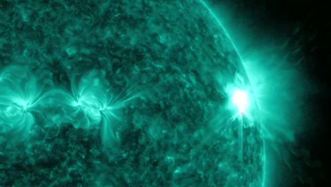 Dave Nutting
If you would like to see if an AOI seminar is right for you, or you would like to help the work of Alpha Omega Institute, please visit our website events page or our donate page. Keep up to date with what AOI is doing.  Thanks for your partnership.
An X-class flare such as this one, if directed at the earth, could be deadly on electronic equipment including aircraft/ship navigation and power systems. This burst from the sun was on Aug. 9, 2011 as seen by NASA's Solar Dynamics Observatory (SDO) satellite.
Date 19 December 2011 Source Goddard Multimedia Author NASA/Goddard Space Flight Center