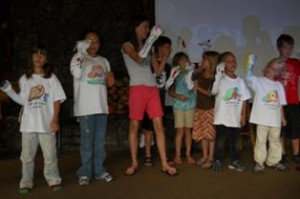 I spent two weeks helping with the children's program at Camp Redcloud.  We had from 12-18 children each day.  They were an active, fun, and enthusiastic group.  One of the favorite activities is always making sock puppets.  The children enjoy performing with them for their parents on Thursday during the variety show.
Some of the older children (age 11-13) , who had been in the program in previous years, enjoyed being able to be helpers as well.  Some are very interested and quite knowledgeable about creation issues.  A few children gave short presentations to the class about certain animals they had studied.  Alan and Diane Galbraith, directors of the children's program at Camp Redcloud, recognize the importance of training the future generation to be leaders in creation teaching.  It was a blessing to assist them in this endeavor.
Sue Stepanek
If you would like to see if an AOI seminar is right for you, or you would like to help the work of Alpha Omega Institute, please visit our website events page or our donate page. Keep up to date with what AOI is doing.  Thanks for your partnership.