What a great time we had at Redcloud Mountain Adventure!  Family camp is always a rewarding time to minister to the entire family.  Our desire is to grow families in their relationships to each other and with the Lord. Primarily we want to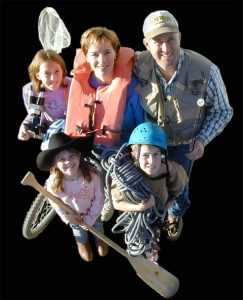 train fathers to be the spiritual leaders in their families. The first week had many teens with unique issues to be addressed.  We trust that God will do great things in their lives in the coming days and years.  The second week we had families with many little children.  One mother commented that it was the most relaxing vacation they could have had.  We are so thankful that it was a refreshing week for them.
There was also a great interest in the teaching.  It was a blessing to see the eagerness that many had… even after a long day.  In addition to the scheduled teaching, the speakers spent extra hours in the afternoon and evening answering questions and providing more for those who were seeking to know more.   One teen commented that this was a life-changing week for him. What a difference the Word of God can make in a person's life!
Rich Stepanek
If you would like to see if an AOI seminar is right for you, or you would like to help the work of Alpha Omega Institute, please visit our website events page or our donate page. Keep up to date with what AOI is doing.  Thanks for your partnership.