Pastor Ramon invited me and a variety of Bible teachers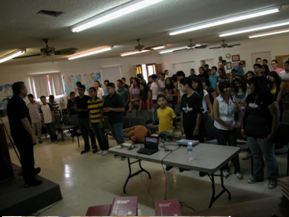 from Mexico to teach at a youth convention which was being held at the Nogales Baptist Seminary in Nogales, MX.  Over one hundred youth attended the event.  Many more signed up to attend, but were unfortunately turned down, due to lack of room.  I observed in the youth of Mexico a desire to know the truth.   Both young and old around the world have an interest in creation, especially the subject of dinosaurs.
After finishing up my dinosaur presentation, one of the kids was concerned about where he would spend eternity.  He approached Pastor Ramon wanting to talk to him about salvation.  Pastor Ramon led the youngster to the Lord!  I know of at least two  who trusted Jesus as their Saviour during the conference.  By knowing the truth about dinosaurs, they will truly glorify the LORD.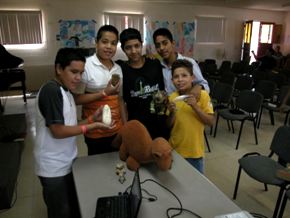 I frequently refer to dinosaurs as my missionary lizards.  During the conference, Pastor Ramon noticed an excitement in the attendees to learn more about the Bible.  He has seen on many occasions that the youth were not very interested in the Biblical account, but at this conference there was an enthusiasm about knowing more!
Richard Stepanek
If you would like to see if an AOI seminar is right for you, or you would like to help the work of Alpha Omega Institute, please visit our website events page or our donate page. Keep up to date with what AOI is doing. Thanks for your partnership.