One Sunday morning, a few weeks ago, I was traveling to Gateway, CO to teach at the Wayside Chapel.  After passing many of the fire fighting vehicles on their way to fight a forest fire west of Gateway, I heard a bang coming out from my vehicle.  At first I thought I had blown one of my tires, but the truck I was driving did not give that impression.  Then I noticed what I thought was burning rubber coming from the front of the vehicle.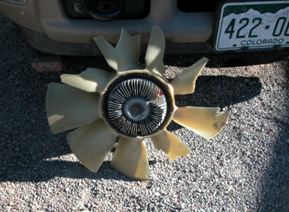 Quickly coming to a stop, I checked all the tires.  They checked out just fine.  Next, I thought the problem must be under the hood.  I knew the situation was bad when I saw the serpentine belt lying on top of the engine.  Antifreeze was everywhere and the fan was in the radiator.  This was not a good sign!  Analyzing the situation, I discovered that the water pump bearing went out and had subsequently caused the fan to fall into the radiator.  This caused major damage to both the radiator and fan, leaving parts of the fan blades along the road.
Usually there is a warning when the water pump is going bad, such as an antifreeze leak or noisy bearing… but not this time.  I had a cell phone; I'll just call for re-enforcements, right?  Wrong!  I am in the mountains and in the middle of nowhere.  No cell phone service here.  So I would have to find help the old fashioned way…  by walking to nearby residents!  With a quick prayer, asking for God's intervention in this situation, I headed for my first target.
As I walked up the steps to the house, I was thinking that people would be eager to help a man wearing a suit and cowboy boots.  After knocking on the door, I began to hear noises inside.  I am in luck!  The lady quickly asked, "What's your name?"  "Richard Stepanek," I replied.  She then abruptly stated, "I don't know you, I can't help you!"  "But mam, my vehicle is broke down on the road," I insisted.  "I don't know you, I can't help you!" she replied again.  I retreated from my first attempt for help.  I probably scared the poor lady half to death.  So much for my suit and tie.
The next house did not help either, as there was no one home, and the third place had a 'beware of dog' sign.  Being an ex-rural mail deliverer, I have learned that strange dogs and I just do not mix well together.  So I decided to skip that house.  As I was walking to the next place, a man and his wife driving by stopped and asked if I needed help.  I informed them of my situation and they were eager to help since they attended the Wayside Chapel.
I was glad I left extra early that morning for the drive to Gateway, even with all the delays I was only fifteen minutes late.  The people attending Wayside Chapel were extremely helpful, and they even helped me tow my vehicle to a safe location off the road.   I praise the Lord that I could perform the repairs myself.  After $850.00 of parts, and about two days of work, my truck was up and running again.  These are just some of the obstacles we get as a traveling ministry, but God is always faithful to see us through.
Rich Stepanek
If you would like to see if an AOI seminar is right for you, or you would like to help the work of Alpha Omega Institute, please visit our website events page or our donate page. Keep up to date with what AOI is doing. Thanks for your partnership.